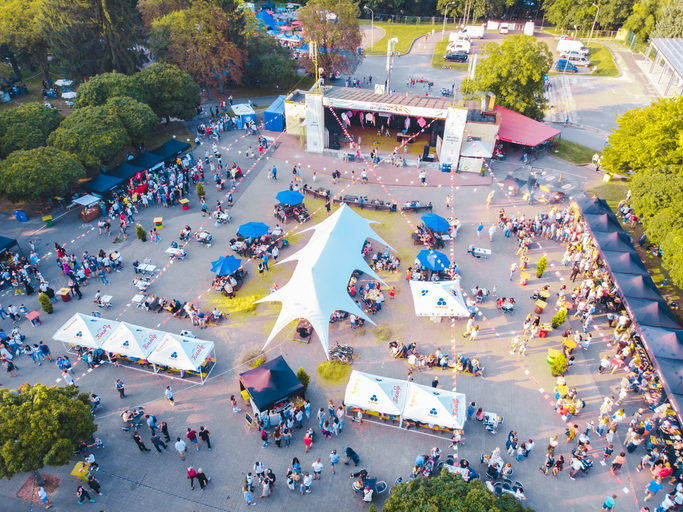 Drones are the hottest new piece of technology to have at events and they provide enormous benefits, from helping with the pre-event planning to providing unique material for your marketing afterward. We've laid out below some of the top reasons why you should consider including a drone in your next company event.
1. Drones Give Great Marketing Material
Drones capture a unique angle when taking video–the bird's eye view. Sweeping and expansive, this aerial perspective creates a sense of wonder and beauty for the viewer. Videos and photos taken from drones are perfect to use in your marketing materials, whether on your website, social media platforms, images in a brochure, and more! You can also share videos and photos as promotional material for your event to get people interested and excited!
2. Drones Help With Planning Your Event
Drones don't just have to take video during your event–they can take video in the planning stages so you can get a good sense of the different venue options. This way, you don't have to rely on memory or a few photographs to help you compare places. You can show the videos to your whole planning committee and make an informed decision based both on your notes and a comprehensive visual presentation of each venue choice. Drones can also often create maps–including 3D maps–of locations, which can help you in planning some of the logistics of your event.
3. Live Stream Your Event
With drones, you can livestream your event to your clients and on social media for all those who can't attend. Live streaming creates excitement about and engagement with your company, and allows those who can't make it to feel like they are there, and can even bring your viewers "backstage" or "behind the scenes." You can also use livestreaming to build up excitement for your event in the days preceding it.
4. Create Hotspots
Drones at your company event can act as hotspots for boosted internet service. If you feel that is something that is important to your guests–or if you are doing a presentation during the event that relies on a strong internet connection, you may want to consider using a drone as an internet hotspot.
5. Safety and Security
Drones don't just video your event for entertainment and marketing. Their video capabilities allow them to act as useful surveillance cameras, as well. Drones can also monitor weather conditions by testing and keeping track of the atmosphere and can alert you if an unsafe or undesirable weather event is imminent. This is especially useful if your event is outdoors.
Drones are relatively new and they are becoming smarter and more versatile as time goes on. There are many drone regulations in place for safety and privacy reasons and they differ from state to state, so you need to do your research before using a drone or before hiring a company to pilot a drone for you. At Shereck Video, our professionals are certified to use drones and are up to date on all the regulations in place to make sure drones at your event are used safely and legally. Contact us if you want to learn more about this exciting service!